Mobile dental outreach improves health, educates future oral health professionals
Published: April 18, 2022 by John Kriescher, UTHealth Houston Development Communications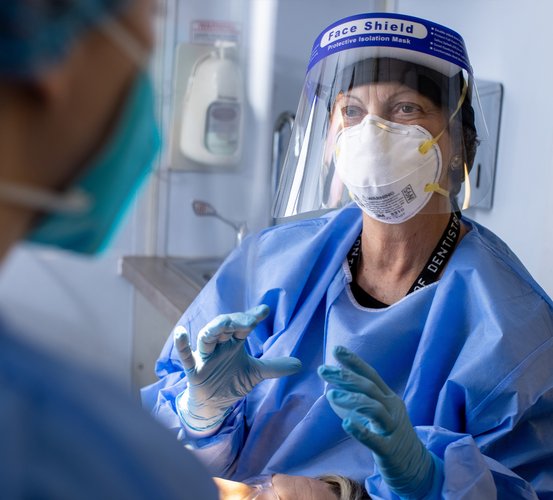 For many low-income families, underserved individuals, and medically compromised people in Houston and East Texas, the UTHealth Houston School of Dentistry Mobile Dental Van heralds brighter smiles and pain relief. A number of the patients seen by the Mobile Dental Van team have not been to a dentist in months or years. In fact, many have never been to a dentist at all.
Inconsistent or no oral care means more than bad teeth or bad breath; it can lead to gum disease, widespread bacterial infections, and even cancer. Lurking inside the crevices of the mouth can also be markers of other illnesses such as cardiovascular disease, diabetes, and osteoporosis. The ever-widening gap in dental care in our nation results from a socioeconomic barrier dividing those who can afford care from those who have no means or access, particularly in rural communities.
"Many of these dental patients do not have the money or financial support that others have," says Sarelly Hinojosa, DDS '21, who was a fourth-year dental student when she completed a clinical rotation on the Mobile Dental Van in 2021. She adds that the lack of education on oral health can cause significant issues. "It isn't necessarily their fault. It is growing up without the knowledge of taking care of their teeth and how it impacts their overall health."
In Houston, the Mobile Dental Van provides services at the Mission of Yahweh, caring for women who are often survivors of domestic violence or enduring economic hardship, and Epiphany Community Health Outreach Services, helping immigrants and people who are uninsured. The van takes extended trips alternating between Jasper and Orange Counties in East Texas, providing services through Jasper Newton County Public Health District and Orange Christian Services.
"In Jasper and Orange Counties, our goal is to provide as much comprehensive care to their patients as possible," explains Margo Y. Melchor, EdD, RDH, who leads the community outreach programs at the School of Dentistry. "It could be that the patient comes in for dental pain, and we will take care of the immediate issue. Maybe it's a tooth that's broken or they don't have many teeth left in their mouth, so they need to come back to get either remaining extractions or restorative teeth, and we provide them care with a temporary partial denture."
"A lot of patients have told us that they couldn't go to dental offices because they didn't have money to pay," adds Sarelly. "The majority of the population is low-income, and a lot of them have less education on all health issues—not just on dental health. That results in chronic diseases like diabetes and hypertension, and they would rather spend money on trying to control that than going to a dentist. That's one of the reasons their teeth get so bad."
In addition to improving health in Houston and other Texas communities, the Mobile Dental Van plays an important educational opportunity to the next generation of dental professionals.
"I think what I really enjoyed was that I felt like I was a dentist there and not just a student providing dental treatment," says Sarelly. "We are responsible for their treatment from start to finish."
Each year, approximately 44 dental students complete a three-week rotation seeing four to five patients a day under the direction of Debra Stewart, DDS. In traditional years, both dental students and dental hygiene students provide care to patients. However, to limit exposure due to COVID-19, only dental students are currently serving on the van.
If a patient's teeth get so bad that they need multiple teeth removed, the case becomes more complicated. "Long-term, there's a lot of bone loss, and if you don't get that taken care of in a timely manner, it can affect restoring their smile with prosthetic work," explains Sarelly. "It just keeps getting more and more expensive as the problem progresses."
Since the launch of the Many Faces. One Mission. campaign, the Mobile Dental Van program has provided almost 1,500 patients with nearly $1.5 million in unsponsored care, including teeth extractions, cleanings, and dental education.
"Some of our patients mentioned that, because of their unaesthetic teeth and smile, they could not find decent work," explains Sarelly, adding that it contributes to the cycle of poverty. "And of course, one of the main concerns is overall health. Without teeth and good function, they aren't able to eat healthy or get good nutrition."
"The arrival of the Mobile Dental Van is both greatly anticipated and much needed," says Judy K. Jensen, Executive Director of Orange Christian Services. "We see the patients come in with extreme pain and discomfort and leave with relief and the beginnings of good oral health. It is our fervent hope and prayer that the dental clinics can continue their outreach of serving the unmet dental needs of Orange County."
After hundreds of thousands of miles and nearly 20 years of service, the Mobile Dental Van program was sorely in need of a new set of wheels. Mounting maintenance costs started imposing significant financial strain, causing lost days of community care and education opportunities.
Recognizing the inherent value of this service, community supporters made significant contributions, including the T.L.L. Temple Foundation, Delta Dental Community Care Foundation, and H.H. & Edna Houseman Charitable Foundation, as well as dental equipment donations from A-dec Inc., to purchase and fully outfit a new vehicle.
Additional support was garnered through a crowdfunding campaign, which relies on the collective power of a large number of small gifts to make a sizeable contribution. Some donors have also given generously of their time, such as Nina Lefeiste, DDS '88, who serves as an adjunct faculty once a week in Orange County.
"We all go into dentistry to help our patients and provide them with the best type of treatment we can," says Sarelly. "If we had additional philanthropy, maybe we could give our patients more options like root canals to help preserve their teeth and smiles. That in turn helps students like me have more hands-on experience and feel more confident in our skills."
The new Mobile Dental Van is anticipated to start clinical services in mid- to late 2022. The van will have three fully outfitted operatories and a wheelchair lift. Melchor looks forward to the opportunity to add additional days of service to provide access to care to reduce oral health disparities.
"The new van will allow us to expand our services to patients, adding additional days of community outreach services and providing our students with valuable clinical experience," says Melchor. "Our donors have always shown a dedication to helping those in need, and their continued support will allow us to take the Mobile Dental Van program even further."
This story originally appeared in inaugural issue of Many Faces. One Mission.