Ono investigating tooth eruption disorders, potential therapies
Published: October 25, 2023 by Kyle Rogers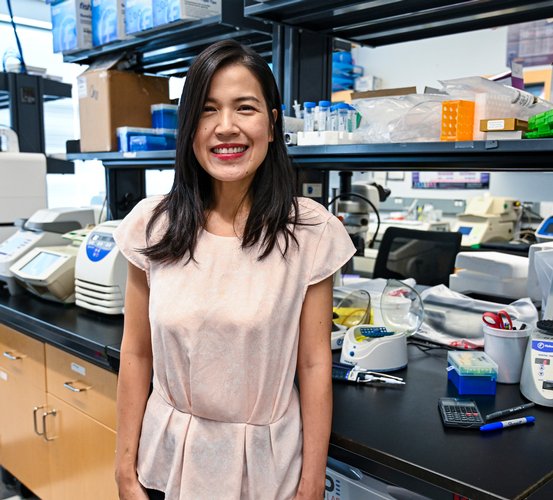 Associate Professor Wanida Ono, DDS, DMSc, PhD, of UTHealth Houston School of Dentistry has received a $2.5 million federal grant (R01 DE030416) from the National Institute of Dental and Craniofacial Research of the National Institutes of Health to study tooth eruption disorders and potential therapies.
Tooth eruption occurs when teeth start to emerge into their functional position in the oral cavity. Tooth eruption disorders refer to the vertical displacement of a tooth from its initial, non-functional position towards its functional position.
"The tooth needs to be fully erupted to achieve its essential function in chewing," Ono said. "Problems in tooth eruption are prevalent and significantly compromise quality of life of the affected individuals.
"This grant will fund the initial steps of translational research for the future cure of the enigmatic dental condition — primary failure of tooth eruption, or PFE — which currently has no effective treatment."
Ono's research will include preclinical models. The first will be a model of PFE, which is caused by loss-of-function of type 1 parathyroid hormone receptor (PTH1R) signaling in dental follicle cells. The second model will be of bisphosphonate-induced arrest of tooth eruption, which is caused by anti-resorptives zoledronic acid that is widely used for therapies for pediatric bone diseases.
She and her team will test whether small molecule inhibitors for salt inducible kinases (SIKs) can rescue tooth eruption disorders that are caused by genetic mutations in the PTH1R signaling pathway or pharmacological, anti-resorptive bisphosphonates factors.
Ono theorizes activation of the PTH1R signaling pathway by direct SIK inhibition can restore defective tooth eruption of molars in genetically- and pharmacologically-induced tooth eruption disorders.
Additionally, her lab will determine the effects of SIK inhibition in rescuing PFE in molars and investigate whether PFE phenotypes can be rescued genetically by a concomitant loss of SIK2/SIK3 and pharmacologically by SIK inhibitor YKL-05-099.
Ono will define short- and long-term alterations in tooth eruption and tooth root structures of mutant molars using histological and 3D microCT analyses.
The aim of the study is to develop innovative adjuvant therapies to restore tooth eruption of affected molars for better clinical outcomes.
The R01 grant will be awarded over a five-year span through June 2028 for the project, titled "Pharmacological Rescue of Tooth Eruption Disorders."