Orange Practice named Digital Dentistry Practice of the Year
Published: January 12, 2022 by Kyle Rogers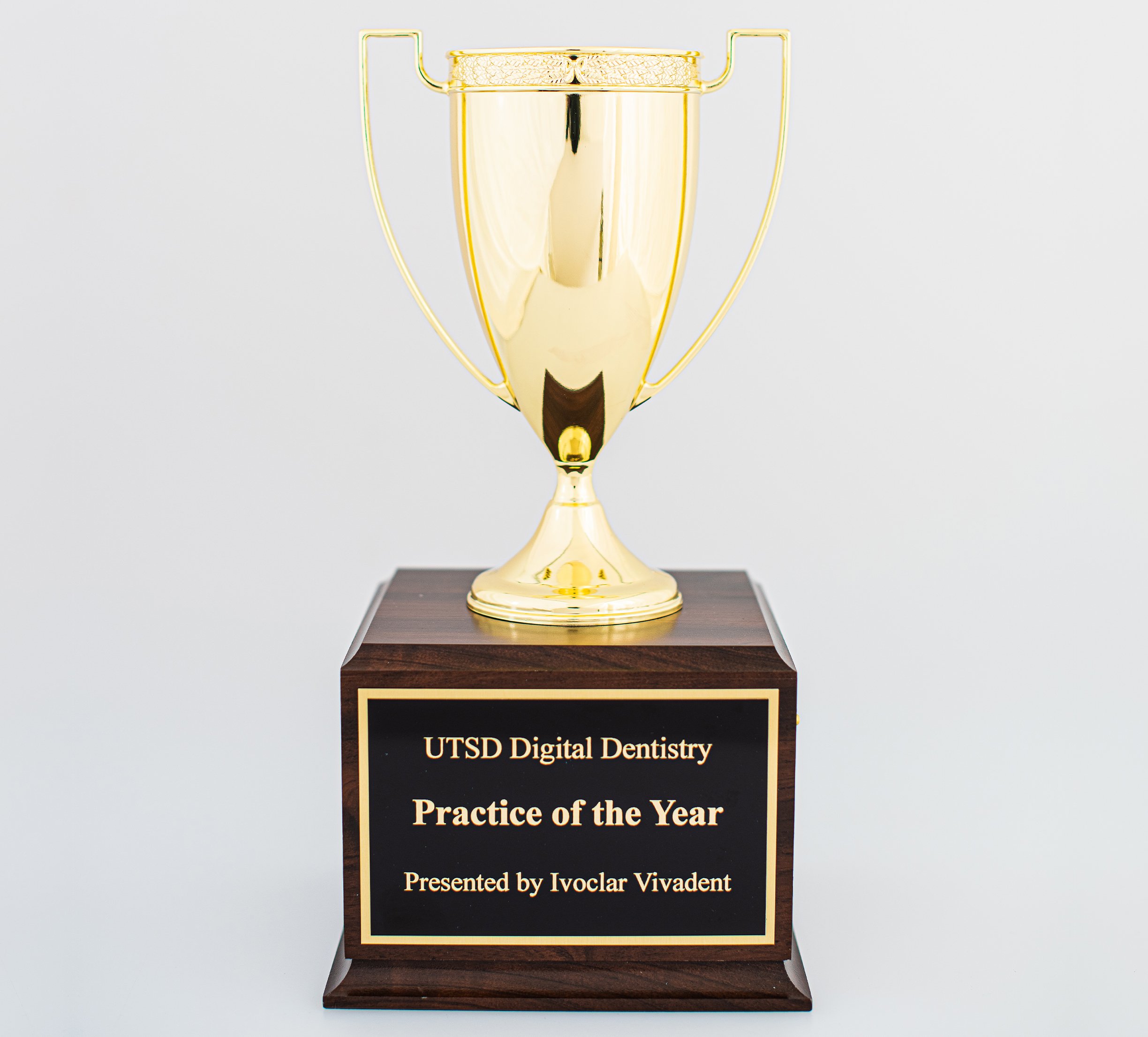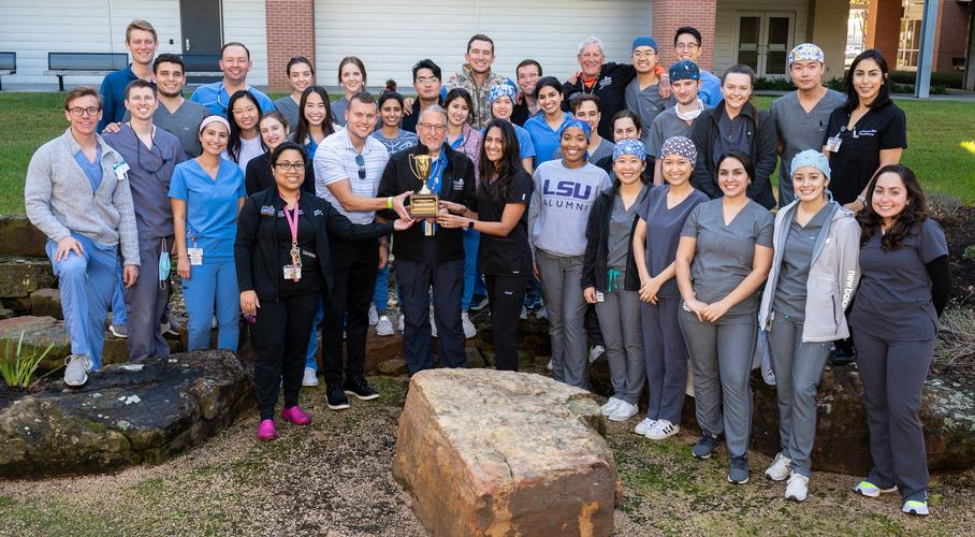 The Orange Practice at UTHealth Houston School of Dentistry has been named the Digital Dentistry Practice of the Year for a second straight year.
Dental students in the Orange Practice averaged 1.53 restorations per student during the 2020-21 academic year to retain the digital dentistry title after being the inaugural recipient for 2019-20.
The UTSD Digital Dentistry Practice of the Year is awarded to the group practice that completes the highest number of computer-aided design/computer-aided manufacturing (CAD/CAM) cases during the academic year. CAD/CAM software is used to digitally design dental restorations such as crowns and bridges.
Director of Digital Dentistry Michelle Thompson, DDS, and Heath Strubel, a representative of Ivoclar Vivadent, presented the trophy to Orange Practice in a midday celebration Monday, Nov. 29. Due to the ongoing COVID-19 pandemic, the presentation took place outside in the courtyard of the Denton A. Cooley, MD, and Ralph C. Cooley, DDS, University Life Center. Ivoclar Vivadent also provided lunch for the winning group practice and attendees.
"We're exceedingly proud of you [students] for the job you're doing," said Orange Practice Director Stephen Laman, DDS, at the trophy presentation. "I'm amazed at the volume, yes, but the quality of restorations you're doing is exceptionally good, and you're always looking at ways to do it better. Dr. Vinu Sista and I are really honored to be your teachers."
As winners, the trophy will reside in the Orange Practice alcove on the second floor for the remainder of the 2021-22 academic year.
"Congratulations, Orange Practice, on all of your restorations last year," said Strubel. "We're happy to be here and to be able to sponsor you and continue our partnership with UTHealth School of Dentistry. What you're learning [in digital dentistry] is very important to you as you move forward. The most efficient dental offices we see are the ones using the latest technology in digital dentistry for in-house scanning and milling. Digital dentistry will make you a valuable asset when you go out into dentistry."
Ivoclar Vivadent has served as the sponsor of the UTSD Digital Dentistry Practice of the Year laurel since its inception. Thompson created the award in fall 2019 as a friendly competition between the faculty and students of the five group practices (Blue, Green, Orange, Red, and Yellow) to encourage them to utilize CAD/CAM technology to more efficiently care for patients.
"A huge kudos to Dr. Laman and Dr. Sista for all the restoration cases Orange Practice completed last year," said Thompson. "I suspect, we will have even more restorations in 2021-22 based on what these students and those in our other practices are doing, especially as the other group practices work to take the crown."
Digital Dentistry Practice of the Year
2021: Orange Practice
2020: Orange Practice