Patel named associate dean for patient care
Published: August 01, 2022 by Kyle Rogers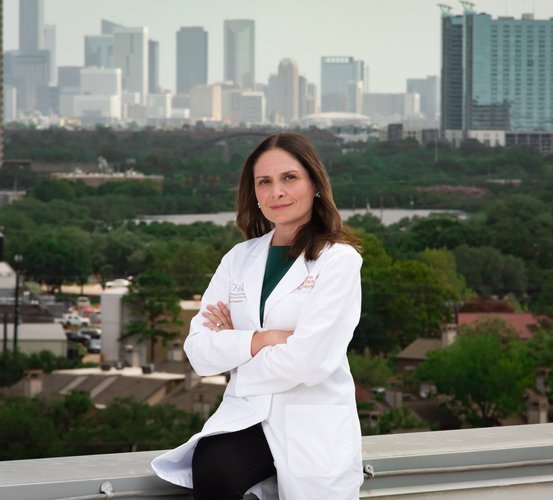 Associate Professor Shalizeh A. "Shelly" Patel, DDS, has been named associate dean for patient care at UTHealth Houston School of Dentistry, Dean John A. Valenza, DDS, announced effective Aug. 1, 2022. The appointment was first shared July 20 at the dental school's Faculty + Staff Retreat.
Patel had been serving as the interim associate dean for patient care since July 2021.
"Over the last year, I've received so many words of encouragement and support from Dean Valenza, department chairs, associate and assistant deans, faculty, students, and many staff members with whom I had the honor to interact within this role," said Patel. "Truly, the spirit of collaboration and collegiality at UTHealth Houston School of Dentistry has propelled me every step of the way and continues to motivate me to serve this remarkable community, which is the most meaningful part of this appointment."
Patel joined the School of Dentistry faculty in 2008 after two years of volunteering. She earned her dental degree from UT Health San Antonio School of Dentistry in 2001 and a master's in education, curriculum, and instruction in health science education from the University of Houston in 2019.
"I have called the School of Dentistry home since 2006," Patel said. "The dental school welcomed me when I left private practice and changed my professional and personal outlook. My ongoing collaboration with expert colleagues and my daily interaction with students and staff have opened my mind to so many avenues in dentistry that I did not venture to explore before my career in academia. The School of Dentistry has given me a sense of belonging and for that I'm grateful."
Patel is a 2019 recipient of the ADEA/Colgate-Palmolive Co. Excellence in Teaching Award and the Academy of Laser Dentistry's T.H. Maiman Award for Excellence in Laser Research. In 2020, she was inducted into The University of Texas Kenneth I. Shine, MD, Academy of Health Science Education and recognized as a Distinguished Teaching Professor by UTHealth Houston.
At the School of Dentistry, Patel has also been recognized with the John H. Freeman Award for Faculty Teaching (2014), Dean's Excellence Awards for Teaching (2012, 2015), and Dean's Excellence Award for Mentoring (2019). In 2020, she won a Dean's Excellence Award for Application. Patel has completed both the ADEA Leadership Institute and the UTHealth Houston Health Educators Fellowship Program.