School of Dentistry Strategic Plan 2022-2027 now available
Published: June 23, 2022 by Kyle Rogers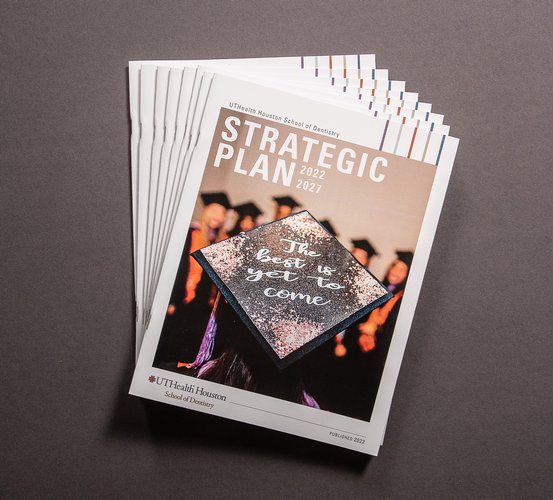 The new UTHealth Houston School of Dentistry Strategic Plan for 2022-2027 is now available. The plan offers a compelling snapshot for what is next in the years ahead.
The process of preparing the "refreshed" plan involved engaging faculty, staff, residents, and students in a review of the School of Dentistry's core values, vision statement, mission statement, and goals outlined in the Strategic Plan 2017-2021. Their input provided new and innovative ideas on how best to guide the School of Dentistry to newer and bolder achievements, while maintaining its status as a premier dental school.
In the new strategic plan, the core values have been expanded to include Acceptance, Continuous Improvement, and Wellness, and the Vision and Mission Statements remain the same, articulating a commitment to improving human health.
The goals continue to reflect the importance of its assets and strengths in forming the foundations for its vision of the future — PEOPLE; COMMUNITY of patients, alumni, and health care providers; role as LEADERS in education, patient care, and discovery; REPUTATION in dental education; and FISCAL STRENGTH as the foundation to realize the School of Dentistry's strategic goals.
The objectives outline bold initiatives that support the School of Dentistry's educational, patient care, research, and service missions.
Finally, the measures describe how the dental school will assess and monitor its progress in achieving the many initiatives outlined for the future.
The School of Dentistry Strategic Plan for 2022-2027 is presented by Dean John A. Valenza, DDS; Arthur Jeske, DMD, PhD; associate dean for strategic planning and continuing dental education; and Karen Novak, DDS, MS, PhD, special assistant to the dean. Contributors include Kyle Rogers, communications manager; and Brian Schnupp, senior multimedia specialist, from the School of Dentistry and Meredith Raine, assistant vice president for Public Affairs at UTHealth Houston. Layout and production were handled by Andrea Rodriguez, university graphic designer, and the UTHealth Houston Branding and Creative Services team.