TAWD Cinderfella Silent Auction raises over $10,000 for Mina Rosenthal-Eames Fund
Published: June 09, 2021 by Kyle Rogers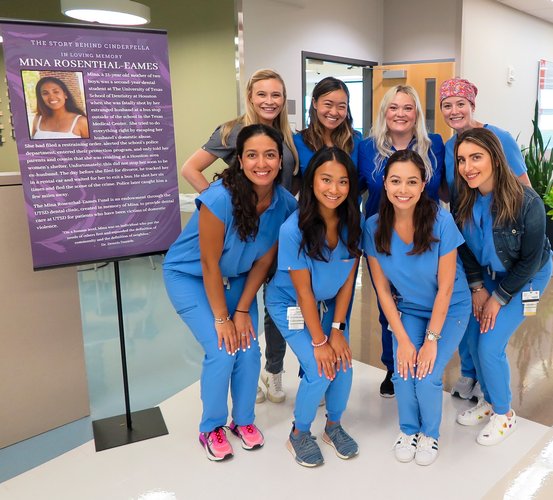 The Texas Association of Women Dentists (TAWD) Chapter at UTHealth Houston School of Dentistry raised $10,750 for the Mina Rosenthal-Eames Fund during its annual Cinderfella Silent Auction. The all-day, online-bidding event was held June 4.
Faculty, staff, students, and residents had the opportunity to view all auction items in the Fullerton Classroom. Each item was labeled with a designated number. After viewing, interested parties could use the corresponding numbers to bid on items online. Additionally, TAWD student chapter members were available to help with the bidding process at designated computer stations inside the room.
Winning bids were contacted at the end of the day to submit payment and claim their respective items with all proceeds benefitting the Mina Rosenthal-Eames Fund, which was created in memory of a UTHealth student who lost her life to domestic violence.
This event marked the sixth edition of Cinderfella. The event was originally scheduled for April 7, 2020, but was postponed due to the ongoing COVID-19 pandemic. TAWD's next Cinderfella is tentatively planned for the 2022 spring semester.
Traditionally, Cinderfella is a combination beauty pageant and comedy show in which male dental students compete in talent, evening wear, and interview rounds for the title of "Mr. Gold Crown." The silent auction starts early on pageant day and concludes with a live auction in the evening.
The Story Behind Cinderfella
Mina, a 31-year-old mother of two, was a second-year dental student at UTHealth when she was killed by her estranged husband on the eve of their divorce in 2007. The Mina Rosenthal-Eames Fund was established in 2009 in her memory and helps cover the cost of dental care for domestic violence victims who might otherwise not be able to pay for treatment.
For more information or to make a donation, contact UTSD.TAWD@gmail.com. Contributions may also be mailed to:
Attn: TAWD
UTHealth School of Dentistry
Office of Student and Academic Affairs, Suite 4120
7500 Cambridge St., Houston TX 77054