The Lingual Groove brings holiday spirit to School of Dentistry
Published: December 13, 2021 by Kyle Rogers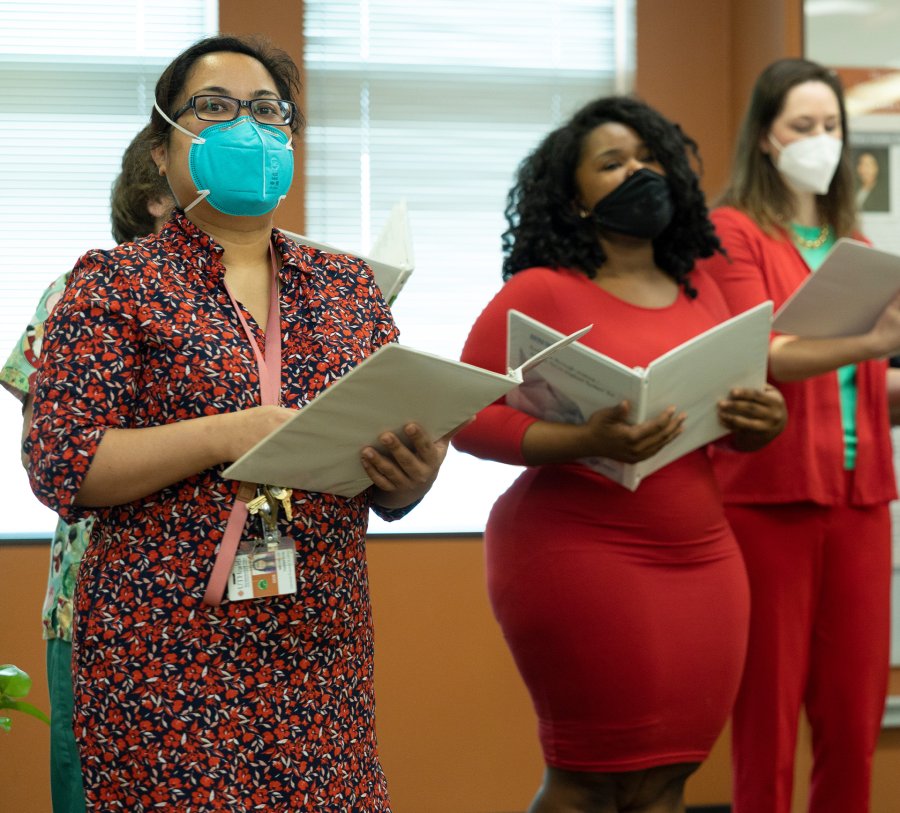 To celebrate the end of the fall semester and get into the seasonal spirit, UTHealth Houston School of Dentistry held a holiday concert Friday, Dec. 10.
The concert was held on the fourth floor of the dental school and live streamed via Cisco Webex. A recording of the event is available for viewing on Panopto (UTHealth credentials required for log-in).
The Lingual Groove, a newly-formed choir comprised of dental school faculty, staff, and students, sang eight holiday songs across a 30-minute performance. The group had just three practices, including a morning rehearsal prior to the concert.
"I'm really pleased with how it went," said Professor Harold Kolodney, Jr., DMD, founding member of The Lingual Groove. "We initially thought it was going to be an all-virtual concert with our performance being streamed, but it was great to see everyone who stopped by the fourth floor to hear us. I know a lot of students had already finished up for the semester, and after all that work, it was just nice to see people come and listen to the music."
In order of performance, songs included:
"Feliz Navidad"
"Christmas Time is Here"
"Let It Snow"
"The Dreidel Song (with a dental school twist)"
"Deck the Halls"
"Star Ng Pasko (Christmas Star)"
"Have Yourself a Merry Little Christmas"
"School-of-Dentistry-themed rendition of Jingle Bells"
The Lingual Groove is comprised of:
Gloria Azulpha, second-year dental student, aka Lamina Dura
Van DeMille, second-year dental student, aka Dynamic Van de Namel
Helen Liu, second-year dental student, aka Harmonize Composite
Cesar Zapata, second-year dental student, aka Plaque Attack
Cara Zou, first-year dental student, aka Occlusal Harmony
Connie Dieringer, chief histology technician, aka Acid-Fast Alto
David Fray, DDS, professor, aka HollenBach Molar Roller
Thomas Harrison, DDS, clinical assistant professor, aka Basically Baritone
Cameron Jeter, PhD, associate professor, aka Mental (Nerve) Block
Harold Kolodney, Jr., DMD, professor, aka the artist formerly known as Post EnCore
Michelle Thompson, DDS, director of digital dentistry and assistant professor, aka Major Digital Treble
Kolodney is credited with initiating the holiday concert. In his teachings of the second-year dental student class, he noticed several students would often sing when practicing their hand skills and looked for opportunities to harmonize as a group. He approached Fray about faculty and staff participation. During the concert, Fray, who has experience as church choir director, served as the conductor.