Third edition of Student Research Group's 'Incisal Edge' now available
Published: January 06, 2022 by Kyle Rogers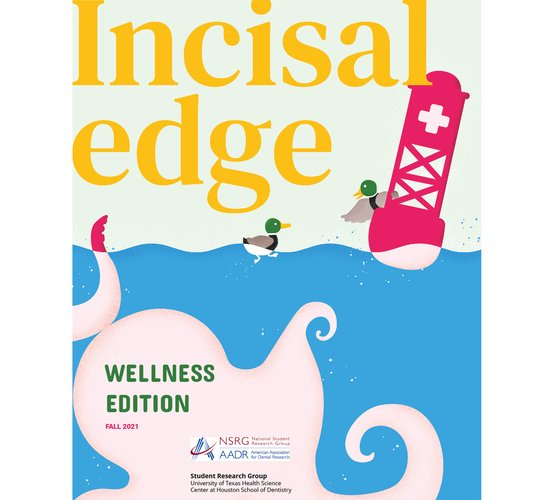 The third edition of "Incisal Edge," a newsletter from the Student Research Group at UTHealth Houston School of Dentistry, is now available. For the Fall 2021 edition, the theme was "wellness."
"Several metaphors exist about wellness," said Ryan Lee, third-year dental student and editor-in-chief of the SRG newsletter. "One I have heard of is the swimming duck. Even though it appears as if the duck glides through the water peacefully, we do not know what goes on under the surface. The duck may be kicking through turbulent waters, but all that remains hidden from view. The metaphor emphasizes that what we know about each other is limitedly based on what we choose to present. More often than not, we preferentially see others as success stories, but focus on the failures in ourselves.
"Incisal Edge" is available at the SRG's homepage or IncisalEdgeDitgital.wordpress.com.
Past issues:
SRG is the local chapter of the American Association of Dental Research's National Student Research Group and is composed of dental students interested in scientific inquiry. The student-run organization is guided by input from a faculty advisor, Dharini van der Hoeven, MSc, PhD, student research coordinator.
SRG promotes, supports, and nurtures the interests of dental student researchers during their time at UTHealth Houston School of Dentistry. It provides exposure to the diverse types of research in the dental profession and encourages involvement in research activities at the dental school by making students aware of research opportunities, such as the Summer Research Program and research electives. The group's goals are accomplished in part by hosting monthly meetings where School of Dentistry professors and students present their research.