White coat ceremonies highlight DH Classes of 2022, 2023
Published: February 14, 2022 by Kyle Rogers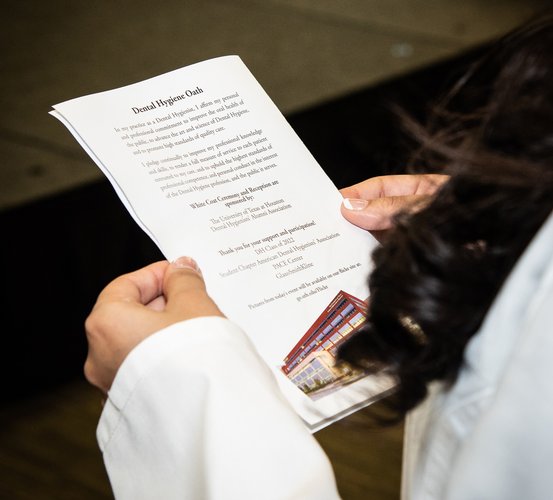 UTHealth Houston School of Dentistry welcomed over 60 students from the Dental Hygiene Classes of 2022 and 2023 to the dental profession during two white coat ceremonies in early February.
Family and friends joined the students Feb. 12 in the Denton A. Cooley, MD, and Ralph C. Cooley, DDS, University Life Center. The two classes had separate ceremonies with the DH Class of 2022 (See photos and video.) in the morning and DH Class of 2023 (See photos and video.) in the afternoon, each following the same format.
Dean John A. Valenza, DDS, welcomed friends and family and congratulated the students in his opening remarks, reminding the students how their dental hygiene experience is different than most.
"You are in a unique environment in that many other dental hygiene students in the United States do not experience and that is learning in a dental school setting, where in addition to your terrific faculty and classmates, there are dental students and dental, biomedical, and other faculty and staff to learn from," Valenza said.
Of the 26 dental hygiene programs in the state of Texas, UTHealth Houston School of Dentistry is one of only three in the state and the only one in the city of Houston based in a dental school.
Valenza also reiterated his message to them from orientation. "Don't be satisfied with the minimum, continue to push yourself to achieve all that you can, to learn all that is possible, and remember, you will never finish as evident that we all become lifelong learners," he said.
Professor Nikola Angelov, DDS, PhD, chair of the Department of Periodontics and Dental Hygiene, offered greetings and commended the students on choosing the dental hygiene profession, calling hygienists the unsung heroes of dental care.
"The dental hygiene program is a make-or-break factor for the success of a dental office, so you should be proud of the profession you have chosen," Angelov said. "It takes a special kind of person to be a dental hygienist. It takes empathy to be sensitive to your patients' needs and to actually overcome the fear and stress that is experienced by some of our patients. It takes huge attention to detail and also manual dexterity to perform the procedures in diagnosis and treatment. It takes stamina to spend hours leaning over many patients, and it takes strong interpersonal skills to relate and communicate with patients and co-workers."
Dental Hygiene Program Director Victoria Patrounova, RDH, MHA, spotlighted her own dental hygiene experience as an immigrant during her keynote speech.
"I studied in two languages on two different continents, three universities, and one community college," Patrounova said. "My husband and I came to this country in 1993 with four suitcases, one of them was full of books, including some dental books. My dental degree from another country was not accepted, so I had to start over. I chose dental hygiene, a completely new specialty for me."
Patrounova also remarked on the significance of the dental hygiene white coat ceremony.
"Today will be the first time you will recite the dental hygiene oath and your families will witness your commitment to it," Patrounova said. "The oath is intended to provide you guidelines regarding the expectations and responsibilities appropriate for dental hygiene professionals. Today's ceremony symbolizes your entrance into professional life.
"This white coat ceremony is the passing of keys; we're letting you into your professional world, and we trust that you will be capable, responsible, and ethical preventative oral care professionals."
Professor Harold Henson, who served as the master of ceremonies, led students through the Dental Hygiene Oath.
At the conclusion of each ceremony, the dental hygiene students turned and faced the crowd to be congratulated on this milestone in their dental journey.
The University of Texas - Houston Dental Hygienists' Alumni Association sponsored the white coat ceremonies and receptions.
The white coat ceremonies were postponed due to the ongoing COVID-19 pandemic. In years past, the event took place at the end of Orientation Week just days before the first day of fall semester classes.