Zapata's mariachi band performs national anthem at Minute Maid Park
Published: September 26, 2023 by Kyle Rogers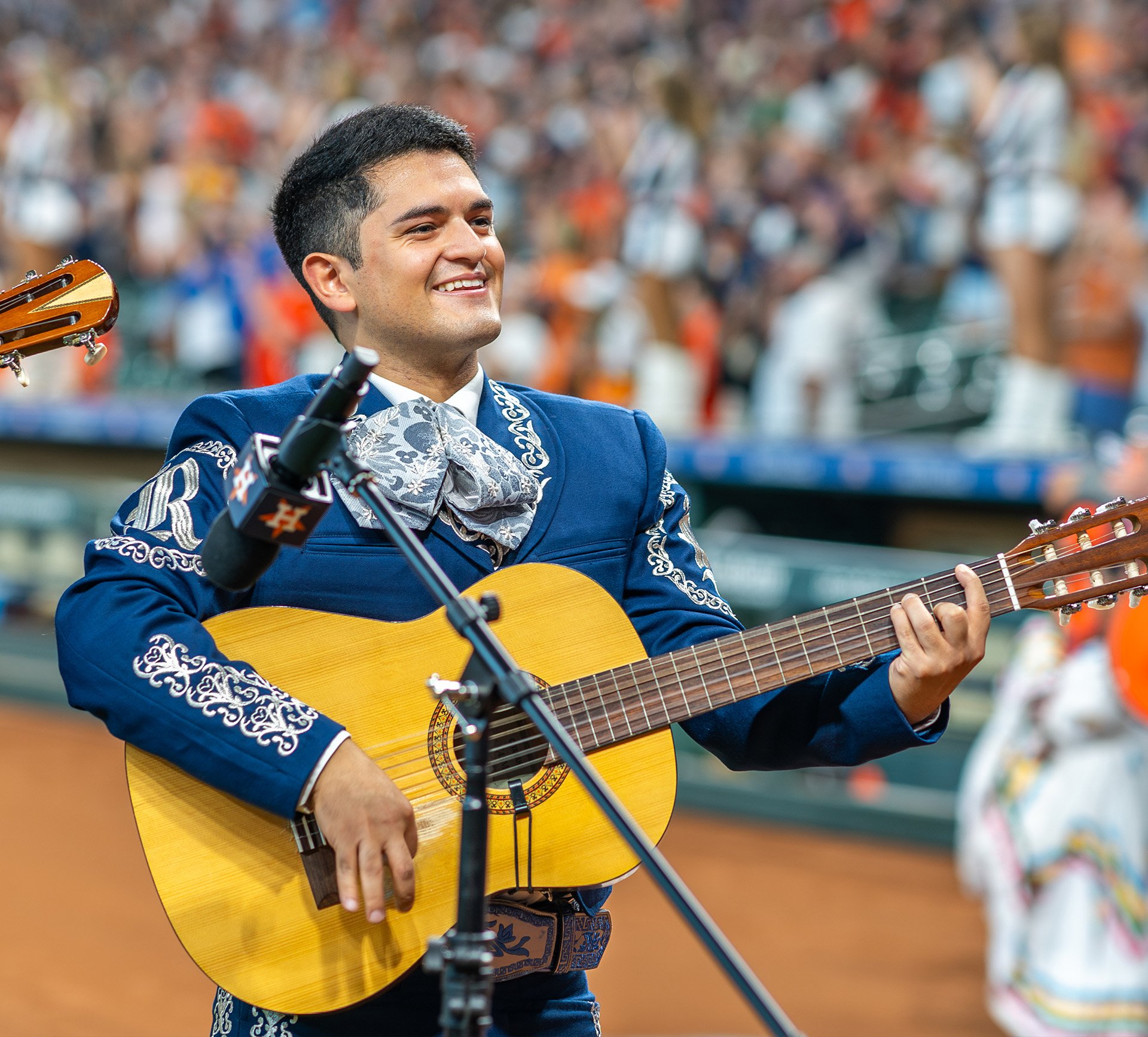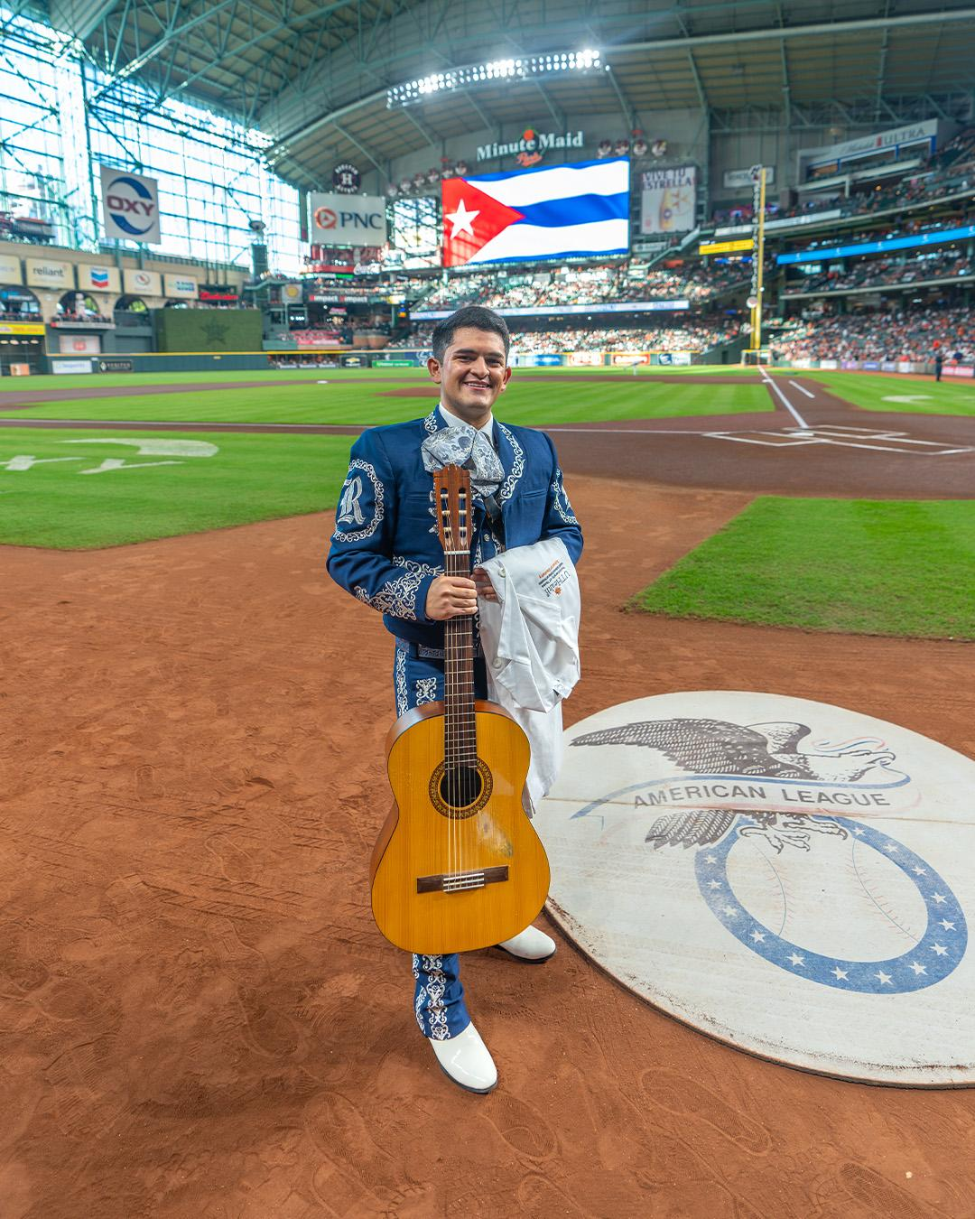 Cesar Zapata, a fourth-year dental student at UTHealth Houston School of Dentistry, performed the national anthem with his mariachi band, Mariachi Luna Llena, as part of the Houston Astros' Hispanic Heritage Month festivities on Sept. 23 at Minute Maid Park.
Zapata has been a member of Mariachi Luna Llena, which is comprised of students from Rice University, since his time as an undergraduate student. He received a bachelor of science degree in biochemistry and cell biology in 2020.
"As a huge baseball fan, performing with the mariachi band over the last six seasons during this golden era of Astros baseball has been a dream come true," Zapata said. "I always look forward to our annual September performance when we get to experience the pre-game atmosphere on the field and stand a few feet away from the players, coaches, and reporters that I'm used to seeing on TV."
Zapata has continued to perform with the group since entering dental school, playing at events and participating in practices. He and his bandmates performed the national anthem and at halftime at the Houston Rocket's Cinco de Mayo game against the Philadelphia 76ers in May 2021.
As president of Mariachi Luna Llena in 2018, Zapata arranged for the group's first Astros performance, and he's been grateful to see the Astros invite the mariachi band back to perform each year. Knowing this could be his last time performing before graduating in May, Zapata gazed around the bustling ballpark to soak in the moment on the field.
"As the ballpark announcer's voice came on, I was pleasantly surprised to hear them say for the first time, 'We are excited to welcome back a Minute Maid Park favorite' before announcing our group," he said. "It served as a touching reminder of the incredible journey I've had playing for the Astros during these six special seasons. These experiences will remain etched in my memory, and I'm grateful for every moment I've had on that field."
Zapata, who sang in choir in middle school and high school, has been playing guitar for 14 years. He never saw himself being in a mariachi band, but it has since become his passion.
"I really enjoy the friendships that I've made with my bandmates over the years and the infectious energy that comes with playing in a mariachi band," said Zapata. "The style of mariachi music itself is captivating, with its lively melodies, rich instrumentation, and the emotional depth of the lyrics. Together, these elements make each performance a truly enjoyable and memorable experience for me."
Zapata says the dexterity of playing the guitar and guitarrón has helped with his hand skills in clinic.
"The dexterity I've gained from playing the guitar and guitarrón has had a positive impact on my hand skills in dentistry," said Zapata. "These musical instruments require precise finger movements, which have helped me improve my fine motor skills. This enhanced dexterity has proven valuable in delicate dental procedures, where precision and control are crucial. Overall, my musical pursuits have contributed to my proficiency as a dentist by honing my hand-eye coordination and motor skills."
From music to smiles, Zapata is grateful for the opportunities to create beautiful moments for others.