Henson inducted into UT Kenneth I. Shine, MD, Academy
Published: April 24, 2023 by Kyle Rogers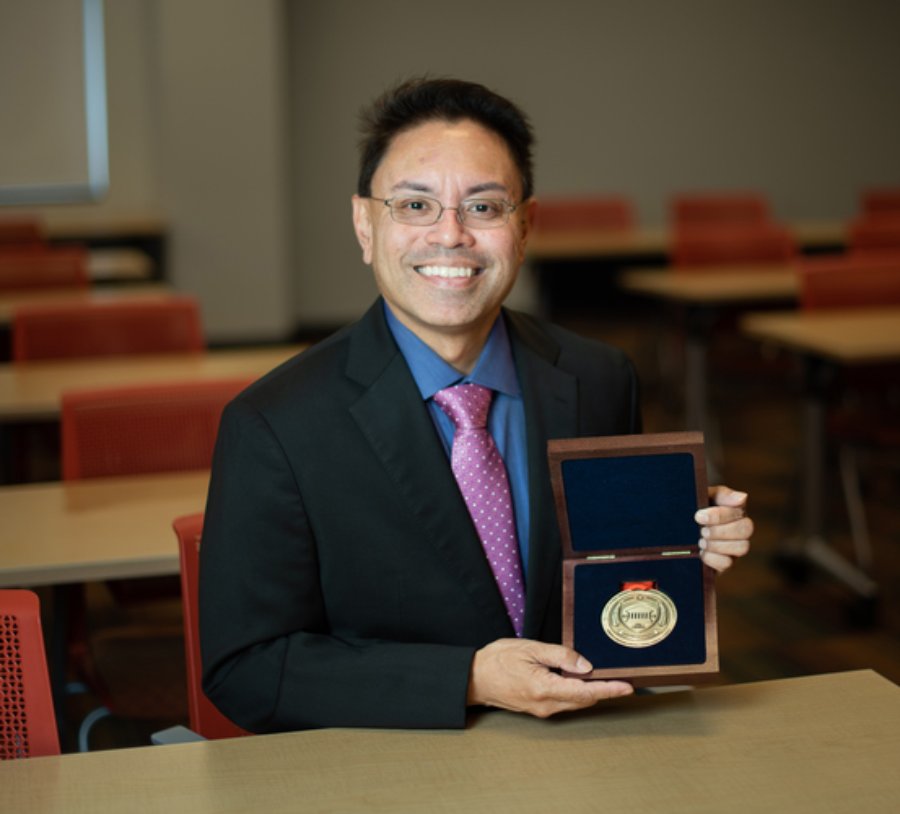 Professor Harold A. Henson, RDH, PhD, of UTHealth Houston School of Dentistry has been inducted into The University of Texas Kenneth I. Shine, MD, Academy of Health Science Education.
"I am truly honored and humbled to be selected as a member of a distinguished group of health science educators," Henson said. "It's a privilege to be part of the Shine Academy, and I look forward to contributing to its mission to support and promote excellence in all aspects of health science education, educational scholarship, and leadership."
Henson, who started at the School of Dentistry in 1998, working part time three days a week in the clinic, joined the Department of Periodontics and Dental Hygiene as a full-time faculty member in 2003. He is the director of the Center for Teaching and Learning and program coordinator for the Master of Science in Dental Hygiene Program.
"Dr. Henson is a valued faculty member who has continually demonstrated a commitment to excellence in teaching," said Dean John A. Valenza, DDS. "He is known nationally and internationally for his collaborative leadership in providing knowledge regarding teaching methodology and education. He has advanced in his academic career and has become a recognized leader in dental hygiene education and professional development. His contributions are extensive and have led to the implementation of innovative approaches to teaching and faculty development."
Henson has taught at all levels of curriculum — graduate, predoctoral, and undergraduate — and served in a variety of administrative positions at the School of Dentistry.
He is recognized locally, nationally, and internationally for teaching excellence in dental hygiene, as evidenced by his long list of teaching scholarship products, educational collaborations, educational consult services, and educational leadership awards.
For Henson, he says he has embraced his positions as opportunities to pay it forward, furthering the development of faculty and teaching the next generation of dental hygienists.
Henson serves on the Steering Committee for the Dental Hygiene Objective Structured Clinical Examination (more commonly referred to as OSCEs) and as a member of the National Board Dental Hygiene Examination (NBDHE®) through The Joint Commission on National Dental Examinations (JCNDE). He is also a past chair of the American Dental Education Association Section for Dental Hygiene Education and has served as an advisory board member of the National Center for Dental Hygiene Research and Practice.
In 2021, Henson was recognized as a recipient of the Johnson & Johnson American Dental Hygienists' Association Award for Excellence in Dental Hygiene, the first male dental hygienist to receive the award since in its history. That same year, he was named a recipient of the 2021 UT System Regents' Outstanding Teaching Award.
The academy annually selects new members from among UT System's health science institutions on the basis of the honorees' contributions in the areas of direct teaching, curriculum development, mentorship, educational scholarship, and leadership. Kenneth Shine is a former UT System executive vice chancellor for health affairs who helped establish the academy in 2005. It was renamed in his honor upon his retirement in 2013.
Henson was one of four UTHealth faculty members selected this year. Others include:
Vineeth John, MD, MBA, with McGovern Medical School at UTHealth Houston
Joseph McCormick, MD, MPH, with UTHealth Houston School of Public Health
Shreela Sharma, PhD, with UTHealth Houston School of Public Health
Henson is the second dental hygienist inducted into the Shine Academy, following Professor Emerita Donna Warren Morris, RDH, MEd, who entered in 2019.
Active School of Dentistry faculty members in the Shine Academy include Associate Dean for Patient Care Shalizeh "Shelly" Patel, DDS; Professor Jacqueline Hecht, PhD, of the Center for Craniofacial Research; Professor Ryan Quock, DDS, of the Department of Restorative Dentistry and Prosthodontics; and Valenza. Former faculty members include Catherine Flaitz, DDS, MS, former dean; John McMahon, PhD; Professor Emerita Paula O'Neill, EdD; Leslie Roeder, DDS, MS; and Warren Morris.