Alums recognize rippling impact of faculty member with servant leadership scholarship
Published: October 30, 2023 by Kyle Rogers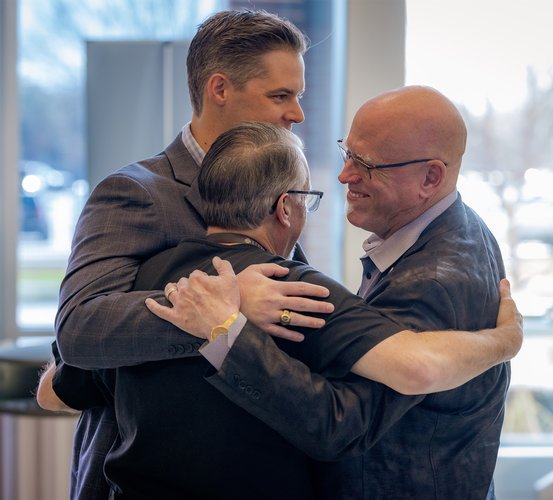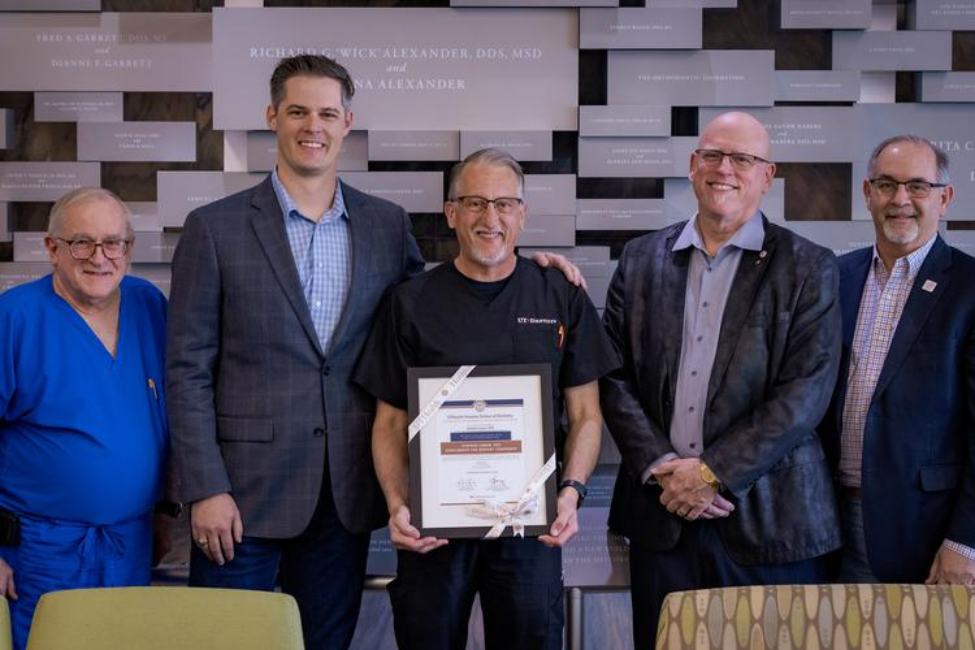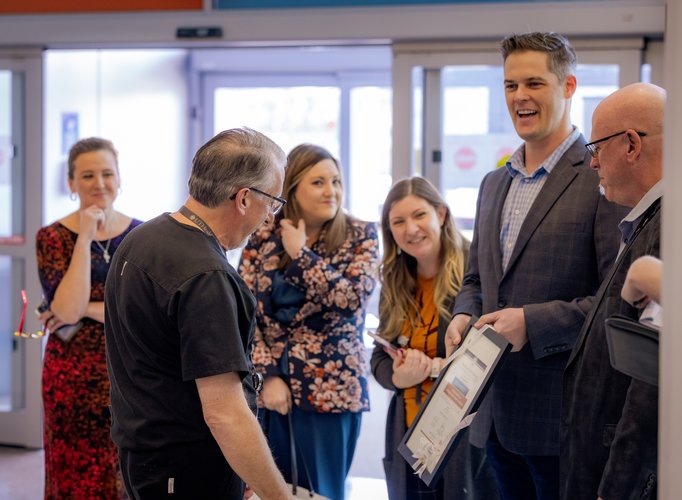 The ripples of a pebble thrown into a pond extend outward, far beyond the initial point of impact. Much like how the knowledge and skills learned at UTHealth Houston School of Dentistry influence the patient care delivery of its alumni base in their communities and beyond.
In 2023, the Elliott-Hale families — father, Jay Elliott, DDS '80; mother, Tracy Jo Elliott, DDS '84, MBBS; daughter, Kalli Hale, DDS '14; and son-in-law, Kyle Hale, DDS '16 — were exploring how best to give back to their alma mater, but more than that, they wanted to do so in a way that recognized someone that had an impact. At the top of the list, Associate Professor Stephen Laman, DDS.
"When Kalli and Kyle floated the idea of a scholarship in honor of Dr. Laman, I thought it was a tremendous idea," Jay Elliott said. "I got to know him well during my time on the clinical faculty in the student clinic. He taught my daughters, he taught Kyle, and several others we have hired in our practices are, ironically, also all Laman students, so it was an easy yes for me."
In February, Jay Elliott and Kyle Hale, on behalf of their families, surprised Laman with the presentation of a framed certificate honoring his impact as a mentor, educator, and leader in the field of dentistry with the establishment of the Stephen Laman, DDS Scholarship for Servant Leadership.
"This is very kind and so sweet of y'all," Laman said of the scholarship presentation. "Somebody recently asked me what my expectations were when I came to work here, and I told them I didn't know what to expect. I just came here to teach dentistry and then suddenly 20 years go by and you know all these wonderful, incredible people like your families. What a legacy y'all have left, and I feel fortunate and humbled to be part of that."
The purpose of the scholarship is to recognize a fourth-year dental student who has exemplified servant leadership — striving to serve others — and who has demonstrated integrity, dedication, mentorship, and support of others, qualities the families say are exemplified by Laman.
"The good that Dr. Layman is doing goes beyond the dental school, because he's planting seeds of kindness and empathy in his students and that's coming across to every single patient that student touches, and that's why we went with servant leadership," said Kyle Hale. "My relationship with Dr. Laman, which was more of a friendship from the beginning than anything else, is one I'll treasure for the rest of my life."
In addition to the Stephen Laman, DDS Scholarship for Servant Leadership, the families also established the Elliott-Hale "Gunner" Award for Clinical Excellence. The first recipients for both scholarships were presented at the 2023 DDS Senior Awards in April.
The Elliott-Hale families own and operate six practices around the Houston area, including New Teeth Dental Solutions, which Jay Elliott initially opened in 1981, and The Airway Dentists. Fellow School of Dentistry alumni providers at New Teeth Dental Solutions include Brad Jetton, DDS '11; Katie Matthys Goldberg, DDS '21; Mina Elahidoust, DDS '22; and hygienists Tara Martinez, RDH '99 and Huy Ngo, RDH '15.
For information on ways to support the School of Dentistry through scholarships or other gifts, visit uth.edu/giving or contact UTHealth Houston Office of Development at 713-500-3200.