Farach-Carson named associate dean for research
Published: March 29, 2022 by Kyle Rogers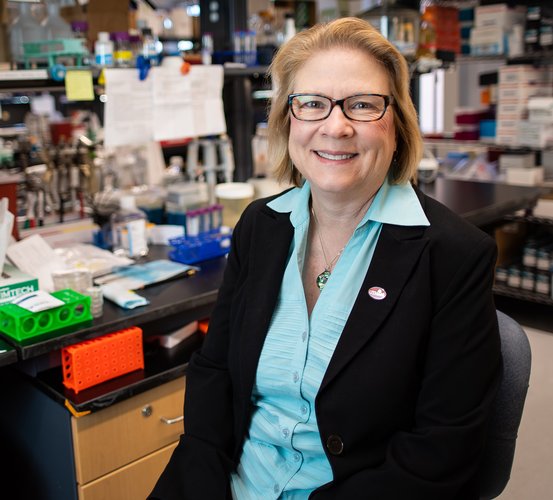 Professor Mary (Cindy) Farach-Carson, PhD, has been named associate dean for research at UTHealth Houston School of Dentistry, Dean John A. Valenza, DDS, announced March 29. The appointment is effective May 1, 2022.
"I've always believed the role of an academic administrator is to serve the faculty, staff, and trainees and make it easier for them to do their important work," Farach-Carson said. "This appointment allows me to continue to serve the research endeavor at the School of Dentistry to help make us the best we can be. I'm truly honored and excited to start this next chapter."
Farach-Carson received a bachelor of science degree in biology from the University of South Carolina in 1978 and earned a doctorate in biochemistry from the Virginia Commonwealth University School of Medicine in 1982. She also completed postdoctoral studies in biochemistry at Johns Hopkins University in 1983 and The University of Texas MD Anderson Cancer Center in 1986.
After 11 years on the UTHealth Houston School of Dentistry faculty, Farach-Carson left in 1998 to join the faculty of the University of Delaware as a professor of biological and materials sciences. She was the founding director of the Center for Translational Cancer Research, a role she began in 2005 which brought together four institutions and hospitals with a focus on accelerating translation of cancer research findings to the clinic. She returned to Rice University in 2009 to provide scientific leadership and vision for the BioScience Research Collaborative and to foster a climate of interdisciplinary and translational research and innovation. She joined the Texas Medical Center as a strategic advisor in 2014 and returned to the School of Dentistry as a professor of diagnostic and biomedical sciences in 2016.
With over 40 years into conducting research, Farach-Carson is a pioneer in the use of complex 3D systems for cell and microtissue culture of both normal and cancerous tissues. Her laboratory focuses on aspects of skeletal and salivary biology including extracellular matrix, tissue engineering, and cancer, merging these disciplines to foster discovery.
A basic scientist turned translational scientist, Farach-Carson has authored more than 200 publications and was co-editor of the seven-volume series, Topics in Bone Biology. She frequently serves as a reviewer for both grant applications and journal articles.
Farach-Carson teaches in both traditional-lecture and problem-based formats. She has mentored dozens of graduate students and postdoctoral fellows in interdisciplinary and translational research and hosted scores of trainees for research rotations.
In 2021, Farach-Carson was named the sixth-ever recipient of the American Society for Bone and Mineral Research's Stephen M. Krane Award, given in recognition of outstanding achievements in basic, translational, or clinical research in inflammation and/or skeletal matrix biology.
"Dean Valenza and I have agreed on a number of strategies that will help us to reach the top 10 among dental institutions engaged in research," said Farach-Carson. "These goals include strengthening our basic, translational, and clinical research endeavors, expanding our federally funded research portfolio, and providing administrative support to our investigators so that they can focus on their creativity and scholarship."
Farach-Carson will succeed Professor Ariadne M. Letra, DDS, MS, PhD, who has been serving in the interim role since Sept. 1, 2020. Letra will be departing the School of Dentistry to join her husband, Renato M. Silva, DDS, MS, PhD, and the Department of Oral and Craniofacial Sciences and Center for Craniofacial and Dental Genetics at the University of Pittsburgh on June 1. Prior to Letra, Professor Jacqueline T. Hecht, PhD, served as associate dean for Research from 2012-2020.