Kirkpatrick named chair of endodontics
Published: November 14, 2022 by Kyle Rogers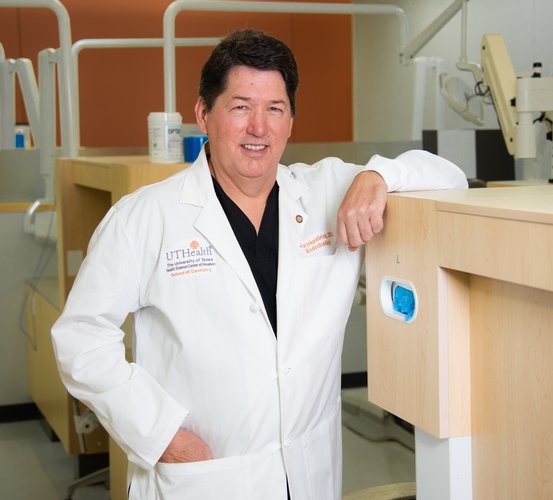 Professor Timothy C. Kirkpatrick, DDS, has been named chair of the Department of Endodontics at UTHealth Houston School of Dentistry, Dean John A. Valenza, DDS, announced Nov. 14. The appointment is effective Dec. 1, 2022.
Kirkpatrick, who has served as interim chair since Jan. 1, 2022, succeeds Professor Renato M. Silva, DDS, MS, PhD. Silva served as the endodontics department chair from 2016-2021 (and interim chair in 2015).
"I appreciate the confidence Dean Valenza has placed in me to lead the outstanding faculty and staff in the Department of Endodontics," said Kirkpatrick. "I look forward to increasing patient care opportunities for the dental students and endodontics residents through increased collaboration with some of the community dental clinics that serve those most in need.
"The specialty of endodontics is focused on nonsurgical and surgical treatments to save natural teeth. It is rewarding to relieve pain while enabling the patient to save their natural tooth."
Kirkpatrick, who also directs the Advanced Education in Endodontics Program, joined the School of Dentistry faculty in 2018 and holds the Frank B. Trice, DDS, Professorship in Endodontics.
He earned a bachelor of science degree from Baylor University in 1985; a DDS from UT Health San Antonio School of Dentistry in 1989; a certificate in Advanced Education in General Dentistry from the University of Florida at Gainesville in 1990; and a certificate in endodontics from Wilford Hall Medical Center in 2000.
Kirkpatrick retired from the U.S. Air Force in 2017 after 25 years, having served as program director of the Wilford Hall Medical Center Endodontics Residency (2006-13) and the Keesler Medical Center Endodontics Residency (2013-17). He was also the endodontics consultant to the Air Force Surgeon General from 2010-17.
After the Air Force, Kirkpatrick was a professor and chair for the Department of Endodontics (2017-18) at The University of Mississippi Medical Center School of Dentistry before coming to UTHealth Houston School of Dentistry.
Kirkpatrick became a diplomate of the American Board of Endodontics in 2004. He served six years as a director of the ABE, serving as president from 2020-21.