Loza selected as 2022 Neidle Scholar-in-Residence
Published: March 22, 2022 by Kyle Rogers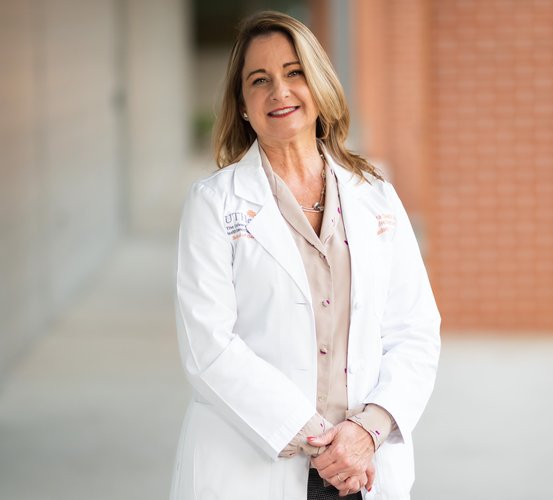 Professor Maria A. Loza, DMD, MS, chair of the Department of Restorative Dentistry and Prosthodontics at UTHealth Houston School of Dentistry, has been selected as the 2022 Enid A. Neidle Scholar-in-Residence by the American Dental Education Association.
Loza was recognized during the 2022 ADEA Annual Session and Exhibition on March 21 in Philadelphia. She is the 29th Scholar-in-Residence since the program's creation in 1994.
"I'm honored to be selected as the recipient of this highly-competitive award," said Loza. "During the ADEA Annual Session, I had the opportunity to meet and spend time with Enid Neidle Scholars from previous years. It's a brilliant, courageous, and cohesive group of women. I'm really grateful of the opportunity and look forward to deeply engaging in faculty development and use the learned knowledge to serve UTHealth Houston School of Dentistry."
The Enid A. Neidle Scholar-in-Residence Program offers a unique opportunity for a dental educator to concentrate on issues affecting women faculty. As the 2022 scholar, Loza will receive a stipend up to $15,000 to pursue a two- to three-month fellowship at the ADEA headquarters in Washington, D.C., to complete research and pursue leadership opportunities. She will be assigned to a senior ADEA staff member(s) and involved in a range of the association's activities in addition to a principal project.
"My project will study how the COVID-19 pandemic affected the productivity of women dental faculty in the U.S., Canada, and Puerto Rico dental schools. There are several studies on how COVID-19 affected the students, the dental school's operations, faculty in general, and women faculty in medicine and engineering, but none on our environment."
While in Washington, Loza will gain a distinct perspective on issues facing women faculty, including promotion, advancement, and tenure policies; entry and re-entry into the workforce; child care and elder care; women's health; work patterns; advanced education and research opportunities; and other gender-related issues.
The Scholar-in-Residence Program honors Enid A. Neidle, PhD, who served as president of ADEA from 1985 to 1986. Under her leadership, ADEA adopted its policy of promoting the advancement of women in dental education.
Loza, holder of the Yun J. Ahn and Song Ahn, DDS, Professorship in Implant Dentistry, earned her dental degree from the University of Puerto Rico School of Dental Medicine in 1994 and completed a certificate in prosthodontics and a master's degree in oral biology from the Dental College of Georgia at Augusta University in 1996.
She became a diplomate of the American Board of Prosthodontics and a fellow of the American College of Prosthodontics in 2000, recertifying in 2008 and 2016.