Looking Back: 2021 Year in Review
Published: January 14, 2022 by Alexandria Brown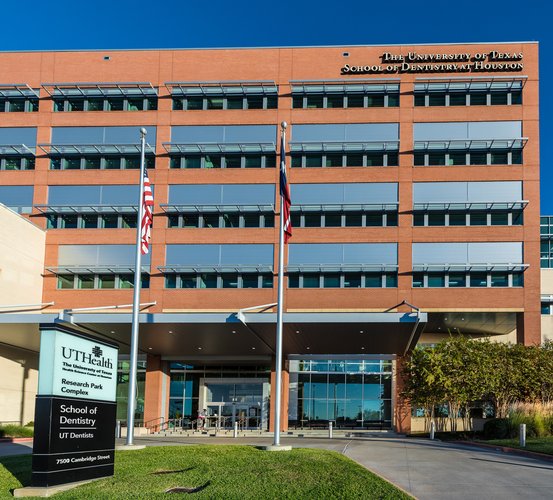 With the New Year having just passed, UTHealth Houston School of Dentistry would like to take the time to reflect on some of its school highlights from 2021. From groundbreaking research to lifesaving philanthropy, 2021 was a year of great success for the faculty, staff, and students at 7500 Cambridge St.
MESSAGE FROM THE DEAN
"Happy New Year! As we all begin 2022 continuing to deal with the pandemic and its impact, we are pleased to provide you this look back on 2021 and our efforts and achievements toward continuing to educate, provide patient care and seek new discoveries. While we dealt with the ups and downs of COVID and other events, it was a remarkable year for UTSD in many ways. So I hope you'll enjoy reading about our 'top 10' highlights, and best wishes for a great year!"
Best regards,
John A. Valenza, DDS
UTHealth Houston School of Dentistry Class of 1981
---
School of Dentistry's 3rd Annual Diversity Week Goes Virtual
The third annual Diversity, Inclusion, and Equity Week at UTHealth Houston School of Dentistry went virtual for the first time due to the ongoing COVID-19 pandemic. Across Jan. 19-23, participants logged in via Cisco Webex for a variety of programs organized by the Diversity, Equity, Inclusion, and Wellness Council.
ACDE Webinar Series United 31 Dental School CDE Programs
When dental offices, educational institutions, and the world was confronted by the COVID-19 pandemic, continuing dental education providers across the county innovated programs and discovered new ways to educate dental professionals on the latest trends and foundational principals in oral health.
Explore UTSD Day Held Virtually for Aspiring Students
Adolescents or young adults are often asked, "What's next?" To help prospective students interested in becoming dentists or dental hygienists, UTHealth School of Dentistry at Houston held its annual Explore UTSD Day in March.
Students, Residents Showcase Research at Student Table Clinics
UTHealth School of Dentistry at Houston's Student Table Clinic returned in April. The popular event gave students and residents a chance to share findings and practice presentations in advance of scientific table clinics other events.
DDS, DH, Advanced Ed Classes of 2021 Celebrate Commencement
Overcoming insurmountable odds — from a historic winter freeze to the ongoing COVID-19 pandemic — the graduating Classes of 2021 from UTHealth School of Dentistry walked across the commencement stage May 23 at Minute Maid Park.
School of Dentistry Celebrates 10th Year at 7500 Cambridge
Since 2012, UTHealth School of Dentistry at Houston has called the 300,000-square-foot, six-story building on the corner of Cambridge Street and East Road home. Take a look at some of the numbers of what's taken place during that time.
Young Becomes Second Oral Surgeon in US with Active R01
The Young Laboratory has been awarded a nearly $3 million research project grant. With this grant, Simon Young, DDS, MD, PhD, becomes just the fourth-ever oral surgeon to receive an R01 grant from the NIH, one of two oral surgeons in the U.S. with active funding, and the first from UTHealth Houston.
School of Dentistry Welcomes Fresh New Faces
UTHealth Houston School of Dentistry welcomed 136 new faces between the Doctorate of Dental Surgery and Dental Hygiene Programs with the start of the 2021-22 academic year Aug. 16. Take a quick look at the breakdowns for the Dental Class of 2025 and Dental Hygiene Class of 2023.
Alumnus Richard Black Names 2021 Texas Dentist of the Year
The Texas Academy of General Dentistry's 2021 Texas Dentist of the Year™ is UTHealth Houston School of Dentistry alumnus Richard C. Black, DDS '76, MS '78. Black was named the winner of the award, the highest honor a Texas dentist can receive, Sept. 17 during the "Texas Academy Awards" at the Lone Star Dental Conference.
Milestones Reunions: Dental Classes of 2001, 2011
UTHealth Houston School of Dentistry, in conjunction with the PACE Center, hosted its inaugural Milestones Alumni Reunions in September. We were able to catch up with Brett Chiquet, DDS '11, PhD; and Sandhya Krishan, DDS '01, who served as class leaders for their class events, to get feedback on their reunion experience.
Give Vets a Smile Provides Care to Over 100 Veterans
"My smile is my style." That is an affirmation of U.S. Army veteran Danny Sneed. On Nov. 5, he was among 103 veterans who received free urgent, palliative, therapeutic, and/or preventive dental care during the 7th Annual Give Vets A Smile at UTHealth Houston School of Dentistry.
The Lingual Groove Brings Holiday Spirit to School of Dentistry
To get into the season spirit at the end of the fall semester, UTHealth Houston School of Dentistry held a holiday concert Friday, Dec. 10. The Lingual Groove, a newly-formed dental school choir comprised of faculty, staff, and students, sang eight-holiday songs across a 30-minute performance.